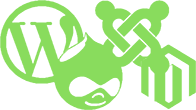 1-Click App Installer
Deploy WordPress, Joomla, Magento, Drupal or the app of your choice in just seconds. Create a blog, a forum, or sell online with an E-commerce store, you can do so quickly & easily.

Free Website Builder
Quickly build beautiful websites with our free drag-and- drop website builder. No web design knowledge needed. Simply choose a website template, add features, then customise!

Real People Helping 24x7
Our knowledgeable support team works around the clock and is available via Live Chat and our Helpdesk to assist you with your hosting service, whenever you need it.