BuddyPress Features
The BuddyPress plugin provides a large variety of features for your WordPress website. It is free, open source and completely customizable. The main function of BuddyPress is to greatly enhance the capability of WordPress in building a community website. It will give your website members the ability to create groups and invite their friends, check activity feeds, create discussion boards and much more. Full list of features can be found on BuddyPress official website.
If you want to start your own community website, please take a look at our special BuddyPress hosting pack.
BuddyPress Installation
The Buddy Press plugin initial installation does not differ in any way from a standard WordPress plugin installation. Once you have installed it and enabled for your WordPress website there are a few further changes that should be made. The following notification will be displayed under your WordPress administrator area.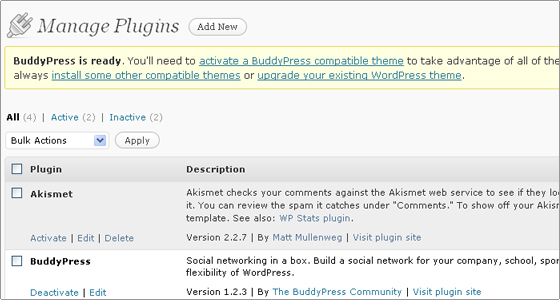 BuddyPress Initial Setup
It is advisable to choose a BuddyPress compatible theme and use it for your website. This will ensure you will not encounter theme related issues at some point. Clicking the "install some other compatible themes" link will load a list of the currently available BuddyPress compatible themes.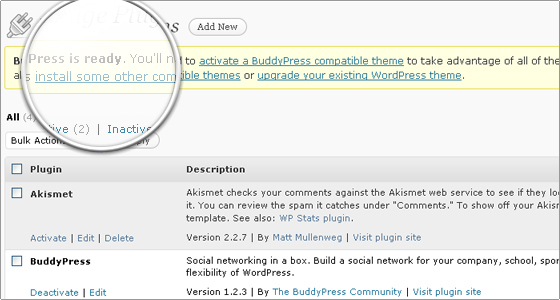 Once you are done adjusting the template it is time to setup the specific settings for your BuddyPress installation. You will see a new tab for BuddyPress just below the Dashboard under your WordPress administrator area.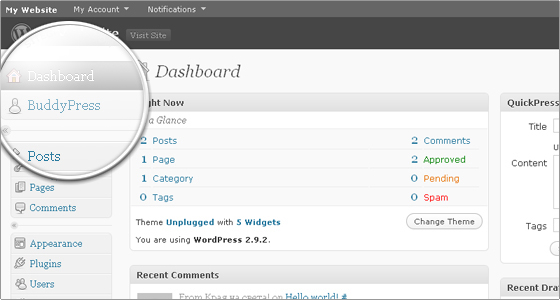 BuddyPress General Settings
Click BuddyPress and you will see several sub-categories.
The General Settings page will allow you to alter the basics for your installation. You will find that all options are enabled by default and if you specifically do not want to use certain functionality you should disable it. For example you might choose to hide the admin bar for logged out users. This means unless a user is logged in to WordPress he will not see the top bar.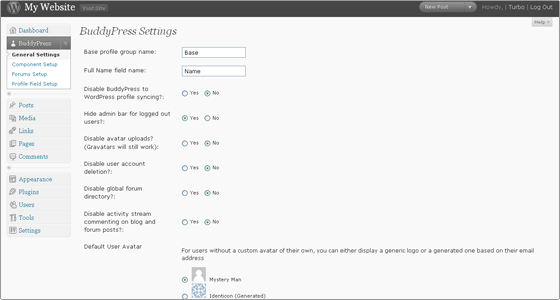 Note that by default, all BuddyPress components are enabled. You can selectively disable any or all of the components. In this case the BuddyPress installation will still function, however the features of the disabled components will no longer be accessible. Those can be altered under the Component Setup page for BuddyPress.
Via Forum Setup you can setup the forum for your website via a single click. Forums in BuddyPress use bbPress in order to function. You have two options at this point. If you do not have an existing bbPress installation you can perform a new one. Alternatively if you already have a bbPress forum installed for your WordPress website you can use it. All you need to do is click the corresponding button.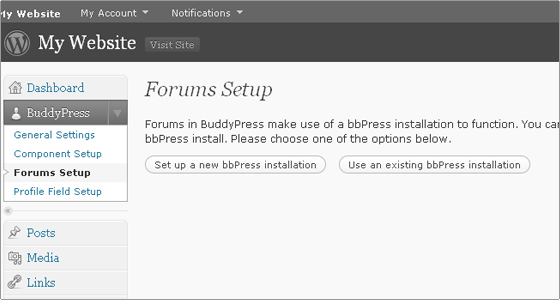 The installation is fully automated. The only action required on your side is entering the path to the existing bbPress installation in case you choose the second option.
Finally the Profile Setup field provides the needed functionality to create custom profile fields for your website community members. Those will greatly vary depending on the actual theme of your social network and can be made either required or optional. Also all fields in the first group will be present on the signup page. Fields that are present in other groups you create will be available for the community members to alter once they have created an account.