In this section we will review the basics of the Freeway installation for the administrator backend.
The first thing you should take care of after completing a Freeway installation is changing the administrative login details for it. As explained in the installation section, the administrative area will be available at:
http://yourdomainname.com/freeway/admin
Where 'yourdomainname.com' is your actual domain name and 'freeway' is the exact directory where you performed the installation.
The administrator login details set by default for Freeway are:
email: freeway@zac-ware.com
password: admin
In order to change the admin details, click on 'Account Settings' right after you have logged in as administrator. Click the 'Edit' button and enter the desired details. Note that at first you will be asked for the current administrative password. Once you click 'Confirm' you will be asked to enter and confirm the new password. Then click the green button with the check sign in order to save the new password.
Prior to proceeding with the changes, note that hovering with the mouse pointer over a specific option will display more information about the field. This would be particularly helpful when you are not sure what exactly to enter in the field.
Menus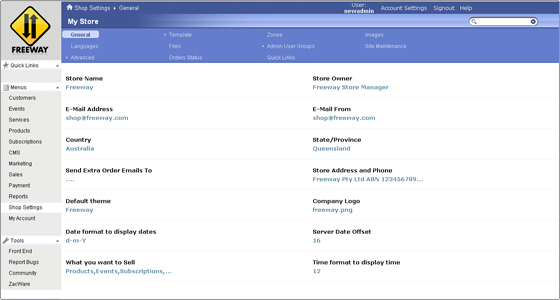 Shop Settings
This 'General' tab will allow you to adjust the configuration for your online store such as store name, owner, email address etc. It is advisable to immediately change those in order to reflect the actual information for your online store.
The 'Template' tab will allow you to make various modifications to your current template. You can edit the greeting text for visitors and clients and the various infoboxes.
Under 'Zones' you can adjust the zones from which you would like to receive orders.
The 'Images' tab will allow you to alter the options for the images that your Freeway online store is using. Their size, the desired extensions and the directories where you would like them saved.
'Languages' tab will allow you to choose between various language packs if available.
Under the 'Files' tab you can access a fully functional file manager. You can browse, download and edit your Freeway files via it. Note that when clicking edit for a file, it will be opened in text format. In other words you can edit only text files directly via the Freeway file manager.
The 'Admin User Groups' tab will allow you to adjust the current user groups as well as add new groups if needed. To adjust the specific permissions for a user group click on it, then choose the 'New Permissions' option from the 'Admin User Groups' drop-down menu.
The 'Site Maintenance' has several different functionalities which one can find really helpful. You can not only set your web site as 'Down for Maintenance' but also display a notice prior to bringing it down and adjust which parts exactly are hidden when the web site is down for maintenance. You can allow access for certain IP address even when the site is not available for others. The last one is particularly helpful when you want to make modifications to your web site and you do not want anyone to have access to it in the meantime.
The 'Advanced' tab will give you access to adjust a large number of settings for your web site. You will find various options that you can change in order to adjust your web site according to your needs. This includes but is not limited to: new user registration requirements, turning on/off the use of SEF URL and session settings. You can also run compatibility test and create backup of your Freeway online store database.
'Order status' will allow you to modify existing order statuses and add new statuses if needed.
Customers
'Manage Customers' will display all customers registered to your Freeway online store. You will be able to alter the details for each customer by clicking on the customer name. Also you can create a new customer directly via the administration area. The option is available on the main page as well as at the Manage Customers drop-down menu.
Additionally you can create orders on your own via the 'Create Order' functionality. It will allow you to chose an existing customer for the order or enter new customer details, then create an order for an existing product.
The 'Advanced' tab allows you to alter the information fields shown for each customer account. Additionally you will be able to alter the Customer and Subscription groups, as well as add new ones and create discounts. Last but no least you are able to import users from Eudora, Outlook, Outlook Express, LDIF, TAB, CSV and Text file.
The 'Orders' tab will allow you to browse all existing orders for your Freeway store. You will be able to search by other ID and display only orders that are in certain status. Also clicking on order in the list will bring out more options that will allow you to refund it, delete it, get printable invoice for the order etc.
The Events, Services, Products and Subscriptions share similar functionality. Basically each will allow you to create and manage various items that are offered for sale at your Freeway online store.
Events
The 'Events' category will allow you to create and manage events on your online store. With Freeway you can sell events such as such as movie shows, sport classes and so on. If you would like to put an event for sale, you should define the event sessions, the attributes and specify the other required information. Note that prior to defining the event, you need to define the locations where the event will take place. Also there are 'instructors' assigned to each event. This is the person that is presenting the event in question.
Services
Using Freeway you can sell not only products but also a full set of services. There is no limitation what services you can provide on your Freeway store. Such services may include but are not limited to technical support, car repair or even babysitting. To put a service for sale you will need to specify required equipment, locations, resources and attributes.
Prior to creating a service, you will have to create the resources required in order to provide that service.
The service locations are the actual locations where you can provide this service.
The specific attributes will vary according to the service you provide. Each different service will have its own set of attributes that are relevant to it.
Products
The traditional products selling is another feature that is of course provided in Freeway. There is no limitation what kind of products you will sell. The required options in order to put a product for sale are product attributes and shipping mode. Note that different type of products may have various attributes. This depends solely on the product itself. Freeway provides several shipping options. You may choose the ones you use via the Shipping tab.
Subscriptions
Using Freeway you can also provide a variety of subscriptions for your online store. You may create subscriptions like computer maintenance or magazines. To put a subscription for sale all you need to do is create a category and specify the required information for the subscription.
CMS 
The CMS functionality of Freeway will allow you to post articles, reviews and adjust the actual look and feel of your online store. It includes:
Managing the front page.
Managing and adding new static pages such as Privacy Notice and Terms of Use.
Managing reviews, articles and FAQ.
Marketing
There are several important functionalities in the Marketing section that you would probably like to us
Alter the default email messages and pages provided for various purposes such as creating a new customer account, sending message to all customers, customizing invoice pages and altering the contact form details for your online store. Those are all available through the 'General' tab.
Creating and managing Surveys.
Setting up affiliates for your Freeway online store.
Creating newsletters and products notifications.
Setting up the SEO for the various pages of your Freeway online store.
Sales
The sales area for your Freeway store will allow you to manage the following:
Create new orders with custom details according to your needs and for a specific existent customer or for a new customer.
Setup custom discounts for Products, Events, Subscriptions or Services
Create voucher/coupons which can be provided to existing or new customers.
You can also create Cross Sales to other products or subscriptions provided at your Freeway online store.
Payment
Available features include:
Managing payment gateways. You have the option to choose among several payment methods that can be available upon checkout.
Adjust currencies. Note that Australian Dollar is the default currency in Freeway.
Setting Up Taxes.
Creating Tickets and ID cards for Services and Events that are for sale on your store.
Reports – This functionality will provide you with detailed reports for all Events, Products, Subscriptions and Services provided at your Freeway online store. You will be able to check refunds, shipping and discount coupons. You can export reports to PDF and Excel files.
My Account 
This will work the same way as Account Settings.
Tools
Front End – This link will load the front end of your Freeway Installation.
Report Bugs – Currently opens the Freeway official web site as they are not running any specific bug tracking software at this point. The following URL can be used instead:
Community – Will again open the Freeway official web site.
ZacWare – Leads to the Freeway sponsor's website.
Freeway Version
Under version you will find information about the current version of your Freeway installation. A link to download the latest version is also provided. You need to click the 'here' link. It will load a page with more detailed information about the version you are running, then click 'Upgrade Now' if needed. You will be directed to a download page where you can acquire the latest Freeway version. Once downloaded, you can follow the upgrade guide.