In order to install a new plugin in your e107 CMS, you should go to your Admin area -> Plugin Manager. There you will see a list of all the plugins that you can install automatically by the manager: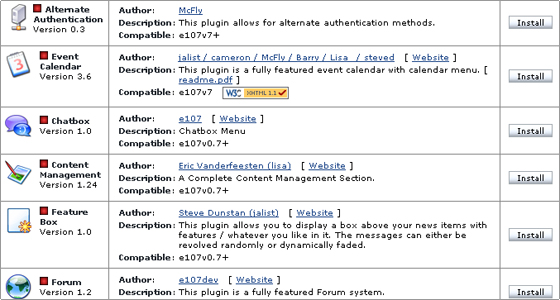 To install a plugin, simply click the Install button next to it.
Gallery Plugin
If you would like to add a Gallery to your e107, Coppermine Picture Gallery is a good choice. In order to install it, you should first download the plugin. You can download this plugin here (and many more addons for e107 as well).
After the plugin is downloaded, you should upload the zip file to your e107 folder. You can do that through your cPanel > File Manager or with your favorite FTP client. The plugin should be uploaded in the plugin directory of your e107 installation – e107_plugins. After the file is successfully uploaded, you should extract it.
Now we are ready to install the plugin. You can go to your admin area -> Plugin Manager. The new Coppermine plugin should be added to the plugin list.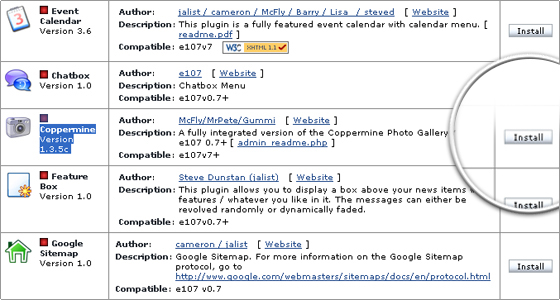 Clicking the [Install] button will install the gallery plugin. Now on the main page of your website there will be a Gallery button added in the menu. This button will lead you to the Gallery that we have just installed to your e107 CMS application.