Magento provides you with a lot of options for the prices of your products. You can configure special prices, timed promotions and much more. To start editing your product prices, first login to your Magento admin page and go to Catalog -> Manage Products.

Now, locate the product whose price you want to modify and click on the Edit link next to it.

Here, you will see many options that you can modify for the product. Select the Prices tab from the left menu.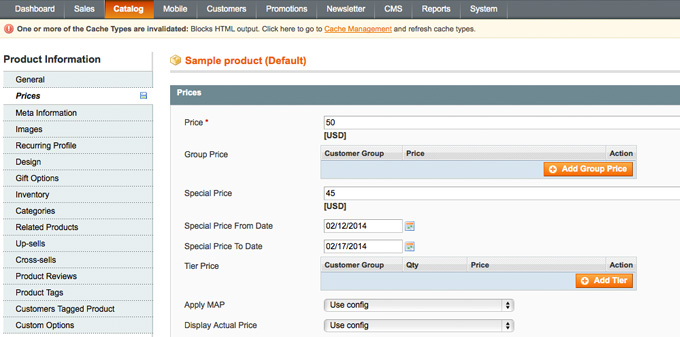 Here, you can modify the prices of your products. Here's a brief explanation for the most important ones:
Price – the price at which you want to sell the product; this is the only required field here and, of course, the most important
Cost – this represents your cost for purchasing the product
Tier Price – through this option you can set discounts based on the quantity of products purchased
Special Price – through this option you can set promotional campaigns – discounts which are valid only within the period defined in Special Price From Date and Special Price To Date; this option is not affected by the quantity of purchased products