You bought a new hosting. Great! Now, you are ready for the online adventure using WordPress. For starters, using WordPress themes(paid or free) work well as they offer good customization. However, they are not customizable to the core and this is where page builders come in.
In this article, we will review Elementor page builder from Pojo which is a free and open source.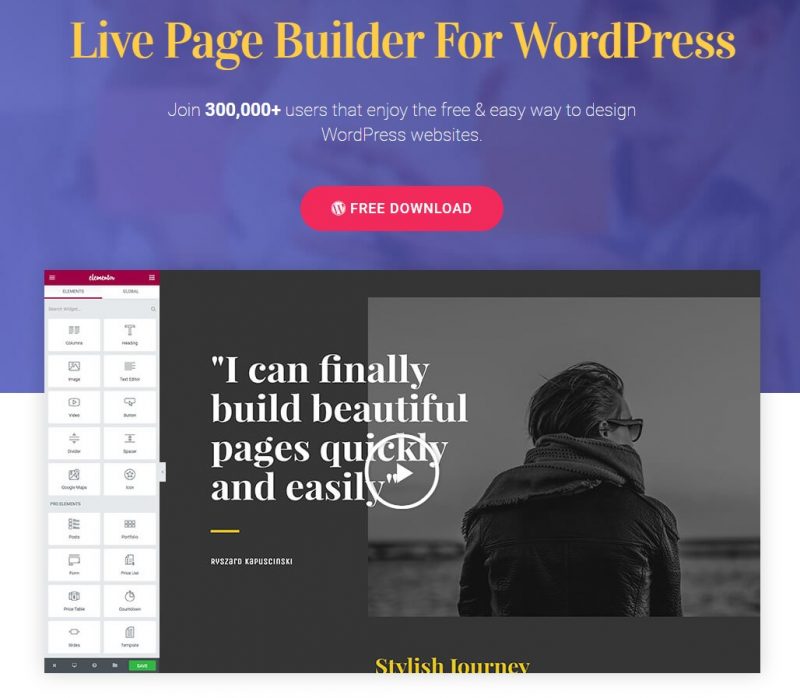 Building a website from scratch requires a lot of work including time and money. Generally, it goes like this. You hire a developer for the work and then he delivers in iterations the final website. Even though customizing your site from the scratch is a good thing. However, it is possible for businesses just starting their online presence.
Elementor page builder gives them the ability to do just that — all free! You can edit your homepage, contact us page, blog pages, and align according to your business philosophy.
Elementor – Page Builder for WordPress Review
Elementor is a great page builder due to its fluid live editing experience. It enables anyone to design their WordPress site without any coding knowledge. All you need to do use the drag and drop feature and build your site accordingly.
Elementor is a great starting point for anyone who has a limited budget. It's popular and has already been downloaded more than a million times! You can also get started by download it from their official page.
Elementor Features
So what makes Elementor amazing? Let's discuss the main features below.
Pre-made templates:

A blank canvas can be a hard place to get started. That's why Elementor comes with pre-made page templates so that you can customize it according to your requirement. Right now, it offers more than 35+ templates. Furthermore, you can create templates from the ground up and save them for future use.

Responsive and SEO optimized:

 All the pages created using Elementor are responsive and SEO optimized. This is very important for a modern website as being responsive, and SEO optimized are must have for any business out there. Not only it improves user experience but also helps gain Google rankings.

Widgets:

Elementor comes with a lot of widgets including content locks, text, videos, buttons, dividers, etc. These widgets are amazing when it comes to building pages using drag and drop functionality. Want to add a video? Just use the video widget.




User Interface:

Setting up and working with Elementor is a breeze. It is simple, intuitive and powerful at the same time. Even new users will find it easy to use. For those who are having a hard time understanding how it works, there is plenty of good documentation available online.
Pricing
It's free! Yup.
You can download it from their official website or WordPress repository.
However, there is a PRO version available as well. The PRO version offers more features than the free version. For example, you get Pro widgets such as portfolio, price table, flip box, etc.
The PRO version is available in three packages. You can get personal, business and an unlimited version for $49, $99 and $199 respectively.
Conclusion
Elementor is one of the best free drag and drop plugin in the market. The fact that it is free makes it even better. With it, you need zero coding skills. Support for responsive design makes it compatible with all the modern WordPress themes.
Another aspect that makes Elementor worth is its fast and fluid user experience. The plugin can also be useful for developers who are looking to customize some aspect of their page and don't want to fiddle with the site's code. Overall, the plugin is highly recommended for anyone who wants to design their page using drag and drop plugin.
You should also look at the PRO version if you are impressed with the free version.
Worried where to get managed WordPress hosting? Check out our managed WordPress hosting packages. You can also get started using our shared hosting services which completely supports WordPress.
This brings us to the end of the review. What do you think about it? Comment below and let us know.