With MiaCMS you have the option to add extended functionality to your website using extensions. Although MiaCMS is a new project, since it originates from the Mambo CMS project (its first version was based on Mambo 4.6.3), all the Mambo and Joomla extensions should function flawlessly with MiaCMS.
You can find useful extensions compatible with MiaCMS at the Mambo Code and Joomla Extensionswebsites
How to add extensions to MiaCMS?

To install an extension, first login to the administrative end of your website. Then click on the Installers menu and select the Universal option.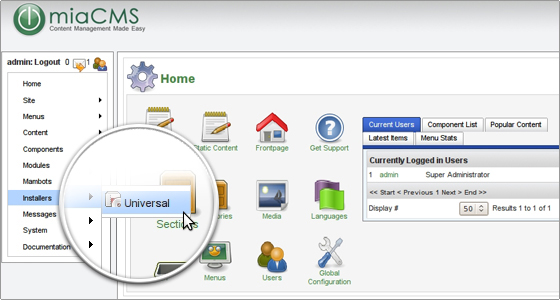 If you have previously worked with Joomla!, you will find the installer looks quite familiar.
First, you have to press the "Browse" button and to select the archive of your extension on your local computer.
Next, click on the "Upload File & Install" button and the installation process will begin. Depending on the extension, there might be different settings/options that you should select at this point.
If the extension is installed correctly, you should receive an "Upload universal – Success" message