FastWebHost offers Softaculous auto installer. It can be easily found on the cPanel's main page. Simply click on the Softaculous icon and ook for the Mambo link at the left part of the screen. Then click on it and follow fill in the information for your new Mambo installation. Your site will be ready in a minute!
A short description will appear to the right. Click on the New Installation link.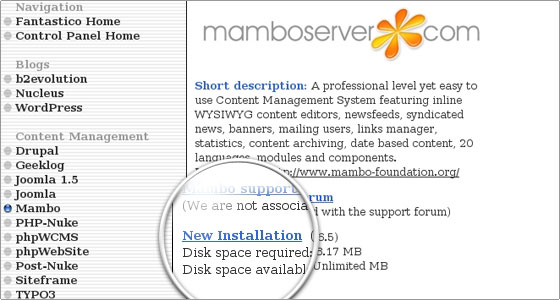 You will be prompted to select a domain name for which your Mambo will be installed. You should make sure that the domain name you have selected is already pointed to your hosting server. Otherwise the style will not be applied to your pages and your images will not be displayed.
If you would like Mambo to be the start page of your website you can leave the Install in directory box empty. If you are willing to have it in a specific subdirectory you should type in the name of the folder. The folder should not exist – it will be created automatically during the installation.
In the Admin access data boxes type the username and the password for your Mambo admin area.
Enter the name of your website in the Site name box. You can also enter the Admin full name and the Admin e-mail in the respective boxes. Those will be used when sending system messages to your new or existing users. Leaving the check box besides the Install Sample Data? label checked will install sample articles and menu entries on your web site. If you are a novice, we would recommend you to check the sample data before creating your own content.
Then click on the Install Mambo button.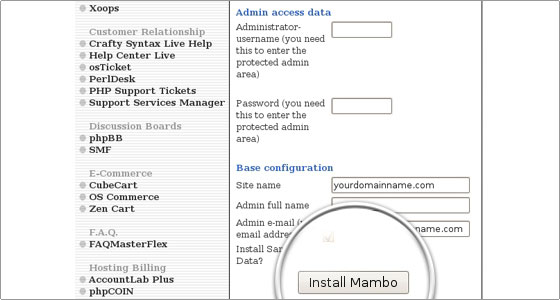 On the next page you will see a confirmation of the details: the Mambo installation URL and the directory, the database and the database username (these are created automatically). The page may also contain notices about missing details or other system messages. Do not ignore them! Note that you cannot install more than one script in a single directory. Click on the Finish installation button to proceed.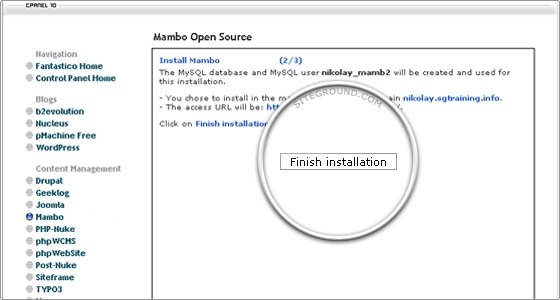 On the third page you will see the installation details.
If you have selected to install Mambo in your root directory you will be able to access the site using the address below:
http://yourdomainname.com
and the administrative interface will be found at:
http://yourdomainname.com/administrator/
In case you have decided to set Mambo in a specific directory, e.g. 'mambo', you will be able to reach your installation at:
http://yourdomainname.com/mambo/
The administrator login will be located at:
http://yourdomainname.com/mambo/administrator/