In this tutorial you will learn how to create a new page in SilverStripe.
By default, SilverStripe comes with 4 predefined pages – Home, About Us, Contact Us, Page not found.To create a new page, follow the steps below.
STEP 1 Log in to your SilverStripe admin area.
To do this, go to www.yourdomain.com/admin, click the "E-mail & Password" tab and enter the email/username and password you defined during the SilverStripe installation.
STEP 2 Once you have logged in your SilverStripe admin area, click the "Create" button and choose a page from the available page templates: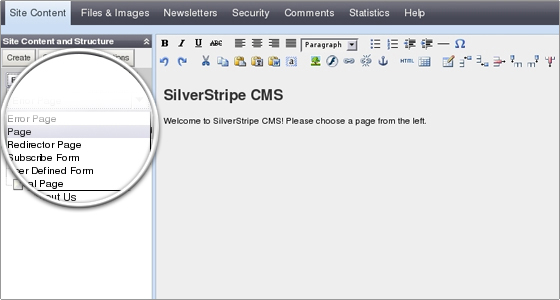 STEP 3 Select "Page" and click the Go button.
STEP4 Let's call the page "Test page".
For "Navigation label" we'll also put "Test page" and for "Content" we'll put "A test SilverStripe page…". To save and publish the page, click the "Save & Publish" button:
STEP 5 Go to http://yourdomainname.com/test-page/ and you will see your new page: