The first thing you would like to do after installing the forum is to perform some fine-tuning. We will deal with it in this tutorial section.
In order to start managing your forum, you have to visit the administration panel. The address should be similar to the following one:
http://yourdomain.com/ipb/admin/
How to configure the email functions in IPB?
The first thing you can do is configure the email functions of the board. This can be done from System->Tools & Settings->System Settings->System->Email Set-up.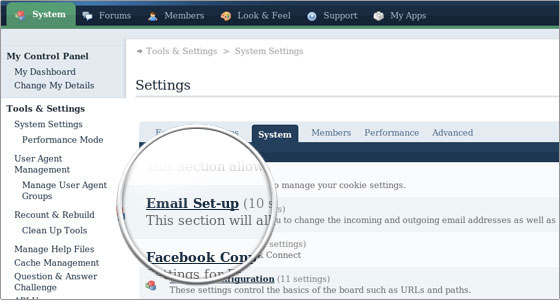 As a mail delivery method you can pick between PhpMail and SMTP. Enter the board's incoming and outgoing e-mail addresses. Also, if you use SMTP enter the SMTP authentication details – e-mail account and the corresponding password.
As SMTP host enter your domain name or the name of the server where your account is hosted. The default SMTP port is 25 so you can leave this value unchanged.
Leave the other details as they are and update the settings.
The configuration should resemble the following: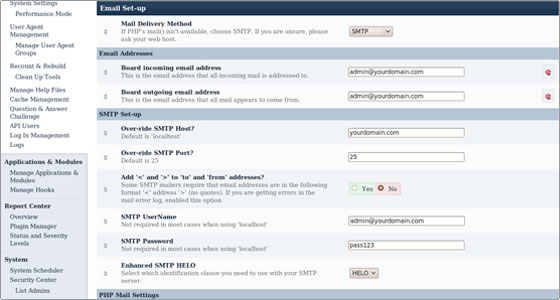 Customize date & time formats in IPB
The server time cannot be changed. However, IPB gives you the option to set time offset. This can be done from System->Tools & Settings->System Settings->Advanced-> Date, Time and Number Formats.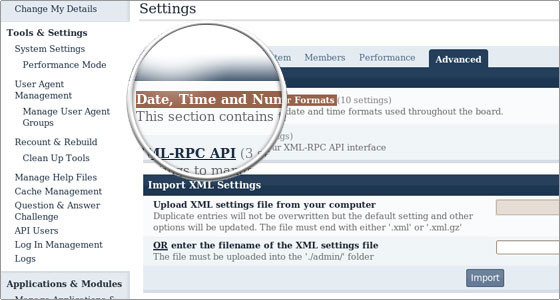 Select your time zone from the Native Server Time Zone drop-down menu. Then you can fine tune the time through the Server Time Adjustment field.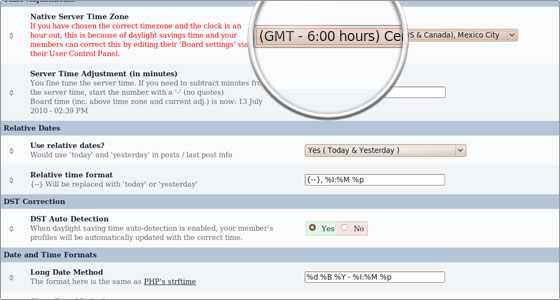 Also, you can change the date and the time format, pick whether to use daylight saving time and whether to visualize relative dates in your forum posts.
General configuration
In order to adjust the general configuration of your forum navigate to System->Tools & Settings->System Settings->System->General Configuration.
The most important settings here are – Board Name, Website Name, Website Address. They are self-explanatory. You can leave the values of the rest of the settings unchanged. The last settings on the page allow you to turn on the debugging mode for the forum, enable the help documentation in the admin control panel and turn off the default forums navigation.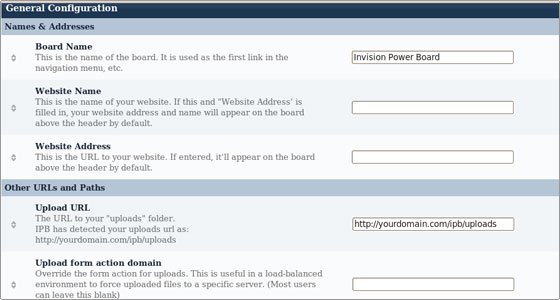 When you are ready click on Update Settings.
User profiles
You can access the User Profiles menu by clicking on the link under your System->Tools & Settings->System Settings->Members tab.
Most of the options are quite self-explanatory.  You can allow users to pick the preferred skin for their forum visualization, define the number of the posts the members must have before allowing their member title change, limit the users' signatures length, select the default editor type for members, allow members to rate each other, enable the automatic subscription to every forum for defined groups and much more.