Get a Professional Free installation with FastWebHost MiaCMS hosting Package!

The installation of MiaCMS includes uploading the installation package via cPanel's File Manager or using an FTP client. The latest release can be found at the MiaCMS's official website.
Bear in mind that the uploaded package should reside under the public_html directory, which is the web root folder for your account, or alternatively under a subdirectory of it.
Additionally, prior to performing the installation, a new database should be created. You can easily do this following the MySQL Tutorial.
How to install MiaCMS?

The next step is to access the directory where you have uploaded the MiaCMS installation package.
In case you have uploaded it directly under the public_html folder it will be accessible directly via your domain name – http://yourdomainname.com.
In case you have used a subdirectory, for example "miacms", it will be accessible via http://yourdomainname.com/miacms.
If everything is done right you should go to http://yourdomainname.com/ where you should see the following page:
Press "Next" button and you will be forwarded to a page where you should enter the details of your database. For new users of MiaCMS, we recommend you to check the "Install Sample Data" option. When the sample data is installed, it is much easier to get used to the application and the way it works.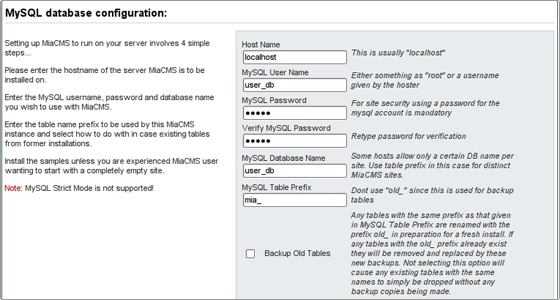 Next, you have to select the name of your website. It will appear at the top of your page, so you can select your domain name for example.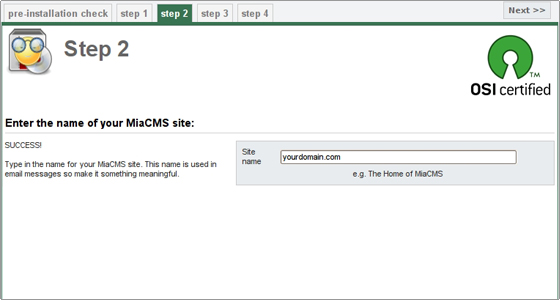 The next page will ask you to enter the administrative e-mail for your application and the password for the "admin" username. Please make sure you enter a valid e-mail address, since important messages could be sent to it. The "URL" and "Path" options should have their values inserted automatically.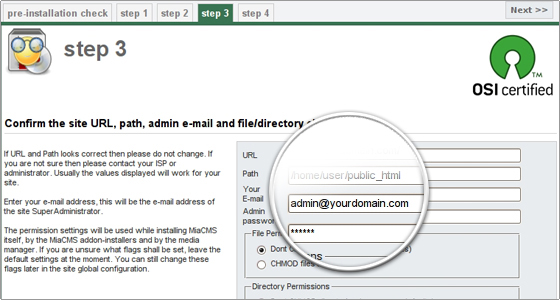 Once you press the "Next" button again, you should use the FileManager tool in your cPanel or your favourite FTP client in order to delete the "installation" directory from the MiaCMS folder.All you have to do now is to press the "View Site" button and you will browse to your newly installed MiaCMS application!