Here we will explain how you can upgrade your Xoops script to the latest stable version in few simple steps.
Before you proceed with the upgrade procedure, please make sure that you have a full backup of your Xoops site.
We assume that your have an outdated version of Xoops installed into a sub folder of your domain (e.g. at www.yourdomainname.com/xoops)
Once the backup is ready, please follow these steps:
STEP 1 Define your Xoops version. It can be found in the xoops_directory/includes/version.php file.
STEP 2 Download the correct upgrade package from the official Xoops web site.
STEP 3 Close your web site for visitors from the Xoops administrator menu -> System -> Preferences -> General Settings -> Turn your site off?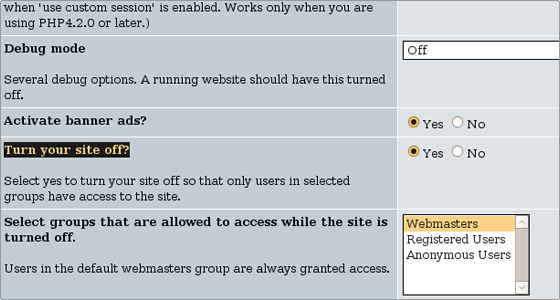 STEP 4 Decompress the package and upload the files from the htdocs folder through FTP. Overwrite the existing ones in the Xoops directory. Preserve the mainfile.php file. The install folder should not be uploaded since it is not necessarily. Change the file permissions to 755.
STEP 5 Update the modules through the Xoops Administration menu->System->Modules.
Click on the update icon besides the Xoops module which should be updated: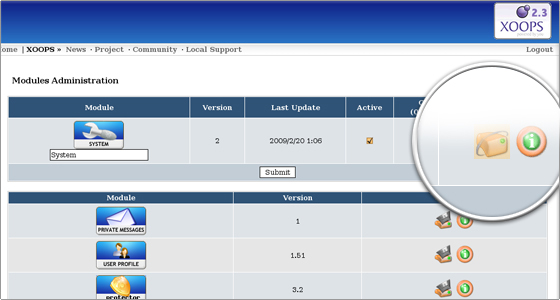 STEP 6 Confirm the update procedure: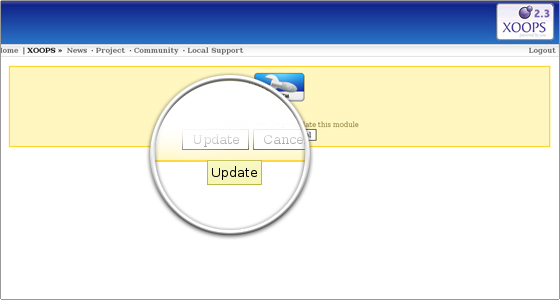 STEP 7 The script upgrade is competed.