To begin the installation of Jaws you should first download the installation package from the Jaws' official website. We recommend you to download the "Jaws Complete" package since it contains the core files and all the gadgets and themes available.
To begin the installation process you will have to upload the installation package via cPanel's File Manager or using an FTP client. Bear in mind that the uploaded package should reside under the public_html directory, which is the web root folder for your account, or alternatively, under a subdirectory of it.
Additionally, prior to performing the installation, a new database should be created. You can easily do this following the MySQL Tutorial.
How to install Jaws
After you upload the Jaws installation package in the desired folder, you can start with the installation itself.
In case you have uploaded it directly under the public_html folder, it will be accessible directly via your domain name – http://yourdomainname.com;
In case you have used a subdirectory, for example "jaws", it will be accessible via http://yourdomainname.com/jaws;
If everything is done right, when you go to http://yourdomainname.com/jaws/install you will see the following page: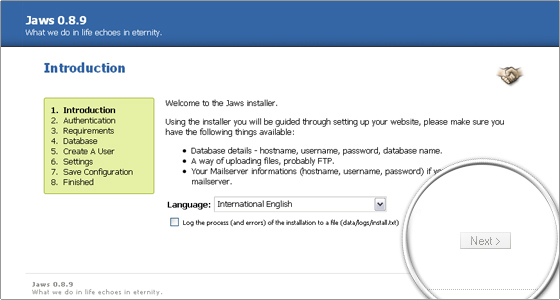 Now, select the preferred language for the installation and press the Next button.
Next, Jaws will request from you to create a text file with a security key in it and to upload it. You can use Notepad, for example, to save a regular text file as "key.txt". Then, you can upload it to the "install" folder via FTP or the FileManager tool in your cPanel and press the "Next" button.
On the next page Jaws will show you whether all system requirements are met. FastWebHost's servers meet all requirements. All you have to do is to click the "Next" button.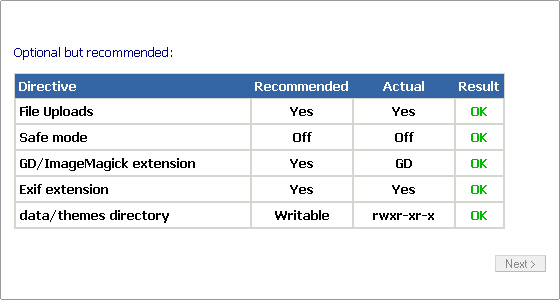 In the next page you should enter the details of the database you have previously created. Set the "Driver" option to "MySQL", enter your database name, user and password and click the Next button.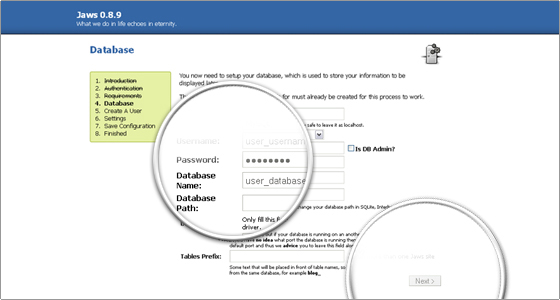 The next step is to create the administrative username for your Jaws website. Enter the desired login details and click the Next button once more to proceed to the next page.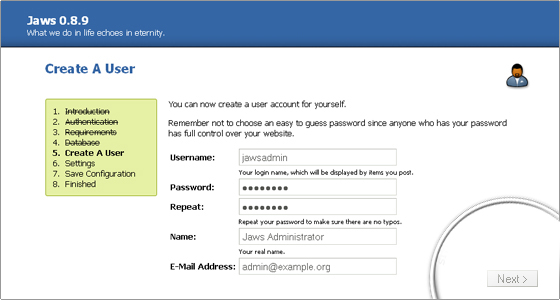 The Jaws installation is almost completed. Now the Jaws application has to save its configuration file. By default the permissions should be just fine, so just click on the Next button to proceed.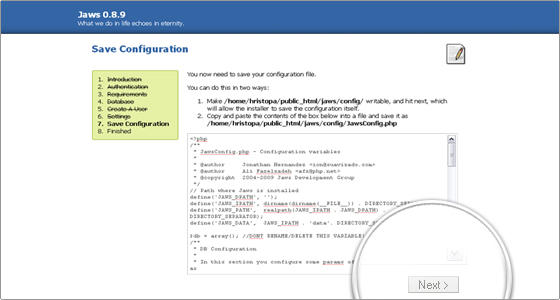 The installation of Jaws is now complete! You can bookmark the links on the last page, especially the one for your administrative end.